WIDI Uhost
Manuals
WIDI-App-user-manual_V07_release_en-1669691551399.pdf
WIDI-Uhost-Owners-manual_v07_mobile-view_en-1669691551412.pdf
WIDI Uhost: Start Guide - PDF Version: WIDI Uhost Start Guide - CME - The MIDI Experts-1669691551371.pdf
From: https://www.cme-pro.com/widi-uhost/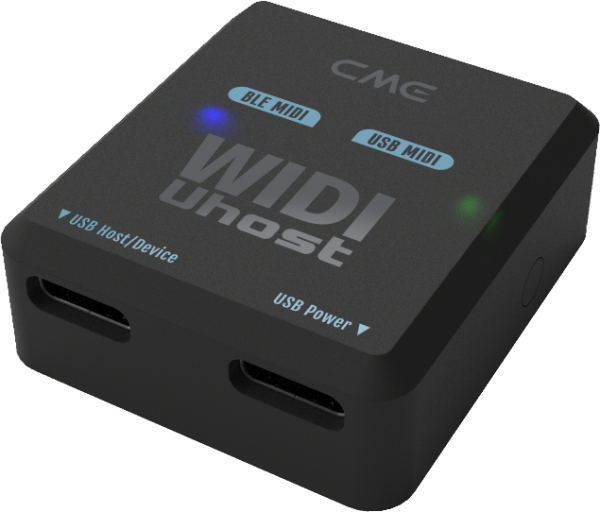 Advanced Wireless MIDI - Ultra-low latency premium Bluetooth MIDI
What is WIDI Uhost?
WIDI Uhost is your Bluetooth MIDI Interface + USB host.
Add Bluetooth MIDI to your class compliant MIDI controllers, instruments and computers via USB. Enjoy ultra-low 3ms latency and secure connectivity via Adaptive Frequency Hopping.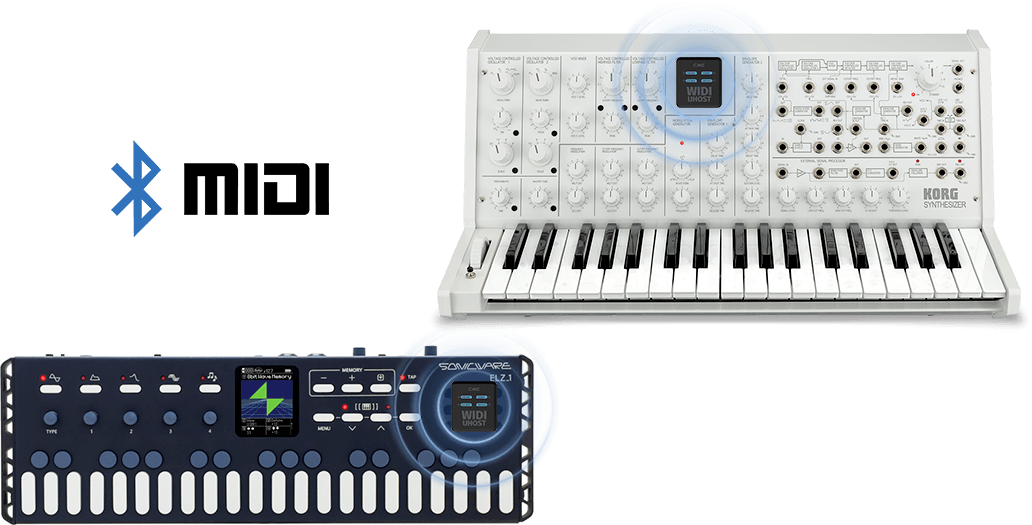 Smart Connectivity Algorithms
Latency is not an issue with WIDI.
WIDI distinguishes itself from any other Bluetooth MIDI technology available through its unique SCA technology. SCA is a collection of highly effective algorithms that optimize performance and minimize interference.
Latency is reduced to an inaudible 3ms as measured between 2 WIDI devices.
MIDI transmits data at a standard rate of 31.25 kbps via cable. WIDI products go up to 400 kbps.
Plug, pair & play
Transmit and receive Bluetooth MIDI via the USB port of your MIDI device or computer.
Bluetooth 5
High performance wireless MIDI with a working range of 20m/65ft without obstacles
Ultra low 3ms latency
Breakthrough latency reduction of just 3ms between two WIDI devices
Automatic pairing
Setup instantly. Operate easily, with auto-pairing between WIDI devices
Transmit any MIDI message
Transmit any MIDI message over Bluetooth including notes, CC, MIDI clock, SysEx and MPE.
USB host for class compliant USB MIDI
Add premium Bluetooth MIDI to plug-and-play USB ports of class compliant MIDI devices
Works with all major operating systems
Add high-performance wireless MIDI to iOS, macOS, Windows, Android, ChromeOS & Linux.
Advanced Bluetooth MIDI groups
Connect up to 5 Bluetooth MIDI devices per group via WIDI App or Group Auto-learn mode
Magnetic design
Clever design solution with magnetic sticker to stick on any surface
WIDI App for iOS/Android
Get lifetime updates and personalise settings with latency or jitter optimisation
What can you do with MIDI over Bluetooth?
Plug, pair & play
USB MIDI to MIDI I/O
Connect two pieces of MIDI hardware with two (2) WIDI devices.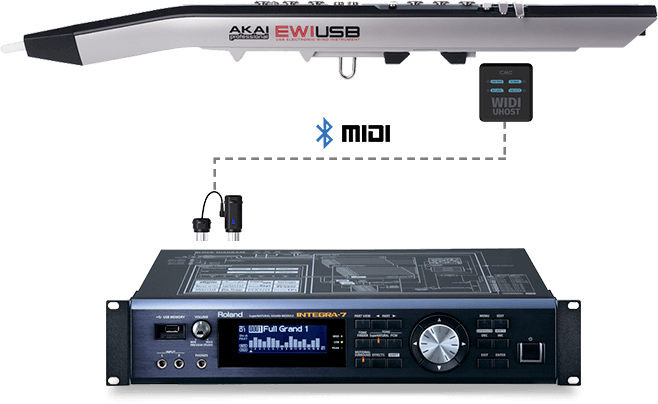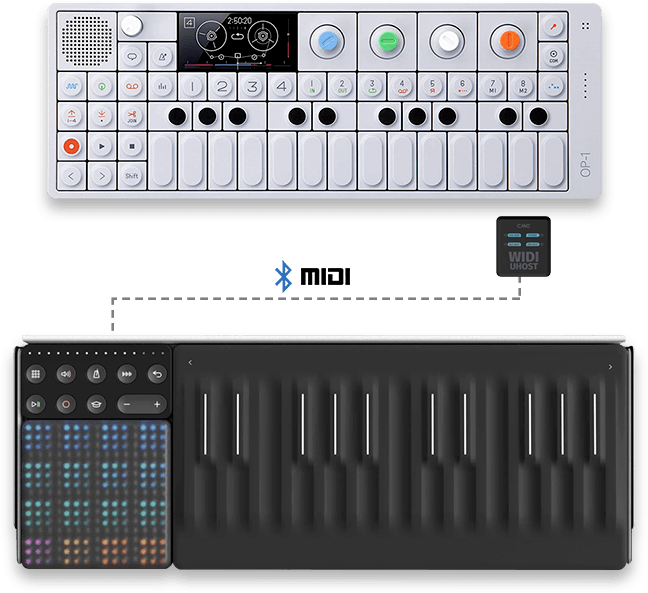 USB MIDI to Bluetooth MIDI
Pair USB MIDI devices wirelessly with any Bluetooth MIDI device using one (1) WIDI Uhost.
USB MIDI to PC, Laptop & Mobile
Pair class compliant USB MIDI devices with all major operating systems using two (2) WIDI Uhost units.

USB MIDI to iOS/macOS
Pair USB MIDI devices wirelessly with your iOS/MacOS device using one (1) WIDI Uhost unit. Add a secondary WIDI Uhost to bypass limitations of built-in Bluetooth of your Apple device.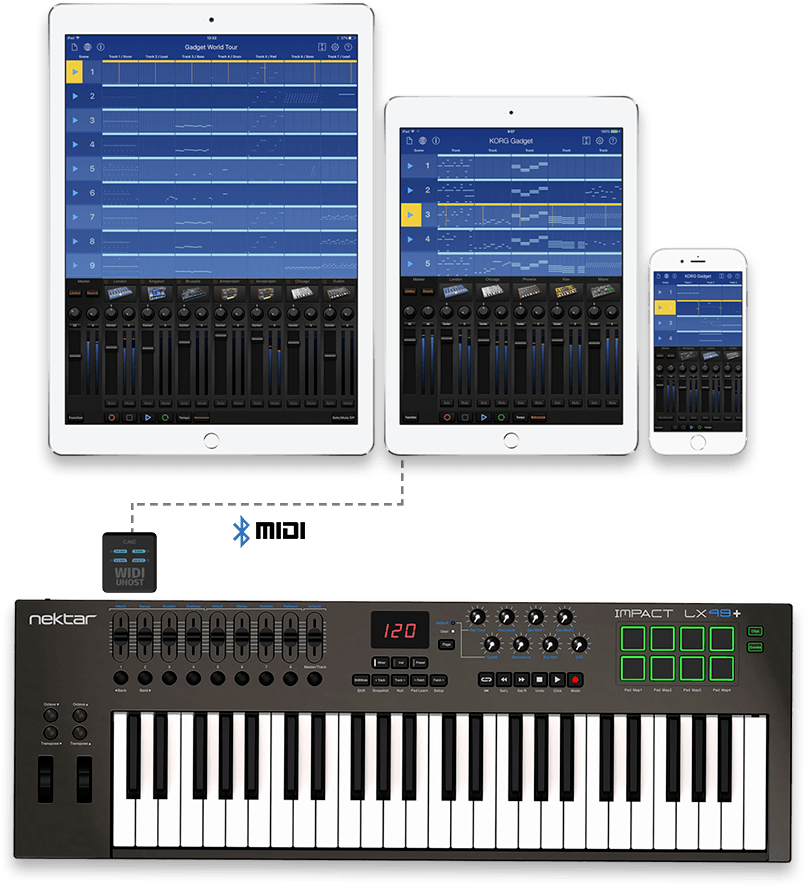 Bluetooth MIDI Groups
Add up to 5 WIDI devices with one (1) central WIDI device and up to four (4) peripheral devices over 16 MIDI channels. Create fixed pairs when working with multiple WIDI connections simultaneously.
Configure 1-on-4 or 4-on-1 MIDI thru, split and merge setups that automatically connect from memory.
3-in-1 Bluetooth MIDI Interface
USB host + smart power split for Class Compliant USB MIDI devices
WIDI Uhost allows direct wireless communication between your USB MIDI controller and hardware.
Keep one single USB power source for both the WIDI Uhost and your bus-powered MIDI controller.
Learn More About Use Cases And Limitations
Discover the WIDI family
Bluetooth MIDI solutions. Connect all your MIDI devices!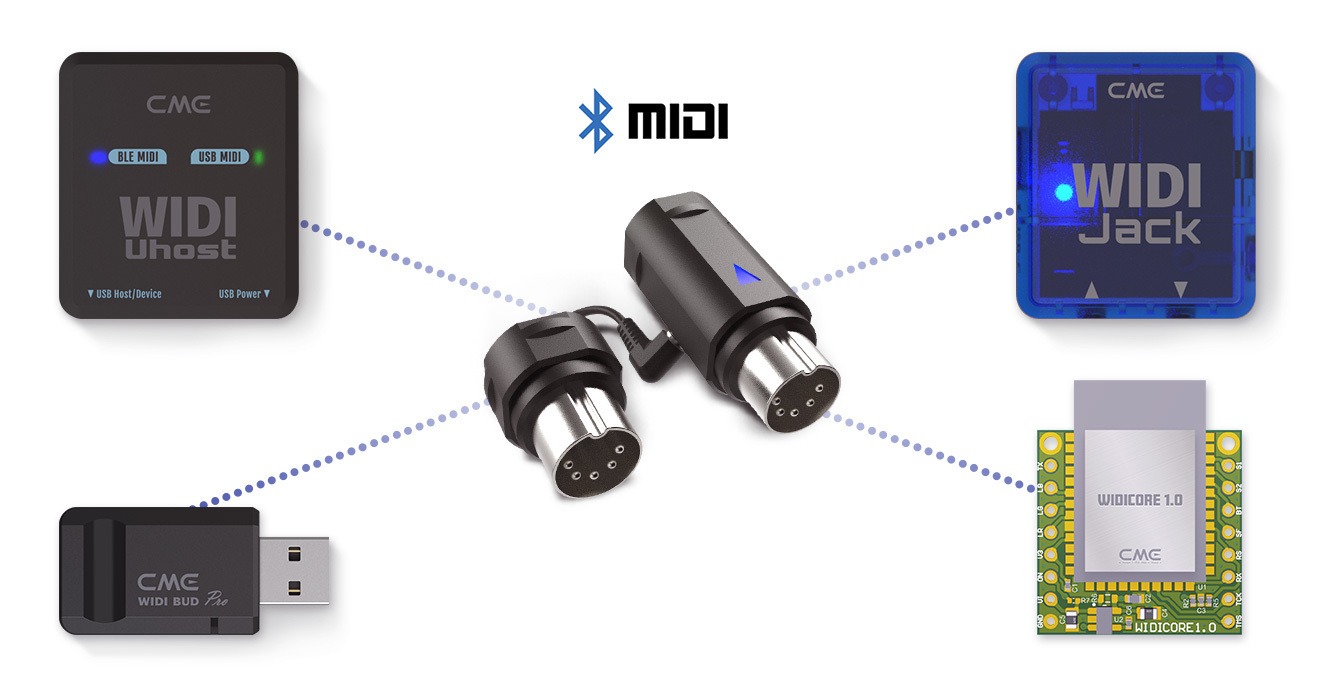 | Technical Specification | WIDI JACK | WIDI MASTER | WIDI Uhost | WIDI BUD PRO |
| --- | --- | --- | --- | --- |
| Bluetooth 5 | Each WIDI device implements high-performance Bluetooth Low Energy 5 (BLE 5) with twice the speed, four times the range and Adaptive Frequency Hopping technology for minimal interference, secure connectivity and optimal wireless performance. | | | |
| Latency | As low as 3ms between 2 WIDI devices | | | |
| Range | 20m/65ft without obstacles | | | |
| Power | Via MIDI power or external via USB-C port | Only via MIDI power. No external power option. | Via USB bus-power or external via USB-C port | Only via USB bus-power. No external power option. |
| WIDI App | Available for free for iOS and Android via AppStore & Google Play | | | |
| WIDI Groups | Easily configure WIDI groups via WIDI app or with group auto-learn. Create fixed pairs and 1-to-4 MIDI Split/Thru or 4-to-1 MIDI Merge with one (1) central WIDI device and up to four (4) peripherals consisting of WIDI or standard Bluetooth MIDI devices over 16 MIDI channels. Run multiple groups at once with automatic pairing from default memory. | | | |
| Automatic Pairing | Between WIDI devices and with standard BLE MIDI controllers. | | | |
| Compatible OS via Bluetooth (Manual paring) | With iOS, macOS and Android via integrated BLE MIDI. With Windows 10 via Korg BLE MIDI drivers. | | | |
| Compatible OS via USB | N/A | N/A | macOS, iOS, Windows, Android, Linux, ChromeOS | macOS, iOS, Windows, Android, Linux, ChromeOS |
| Special | Accessory cables available for TRS MIDI and DIN MIDI ports. Also works with devices with only MIDI IN or unpowered MIDI ports via external USB-C power. | Work with all MIDI devices with 3.3v or 5v MIDI Power via 5-PIN MIDI OUT ports. Does not work with devices with only MIDI IN or unpowered MIDI Out. Check the instruction manual of your device. | Works with all "class complaint" USB MIDI devices. Smart power distribution for bus-powered USB devices. Only works as a USB device with USB hubs. Works with the 1st USB MIDI port for USB devices with multiple (virtual) MIDI ports. Works as USB host with USB OTG cables. | Adds premium Bluetooth MIDI to all operating systems, including Linux and ChromeOS. Bypass wireless MIDI limitations of iOS/macOS. Enjoy auto-pairing and group auto-learn for WIDI and Bluetooth MIDI controllers with optimal latency and jitter performance. |
| Accessory Cables | Yes. Sold separately. DIN-5, DIN-6 mini, TRS 2.5, 3.5 (1/8") and 6.35 (1/4") | Not needed | Yes. Sold separately for USB B and micro-B. | Not needed |