The Pill Pedal - Stereo Ducking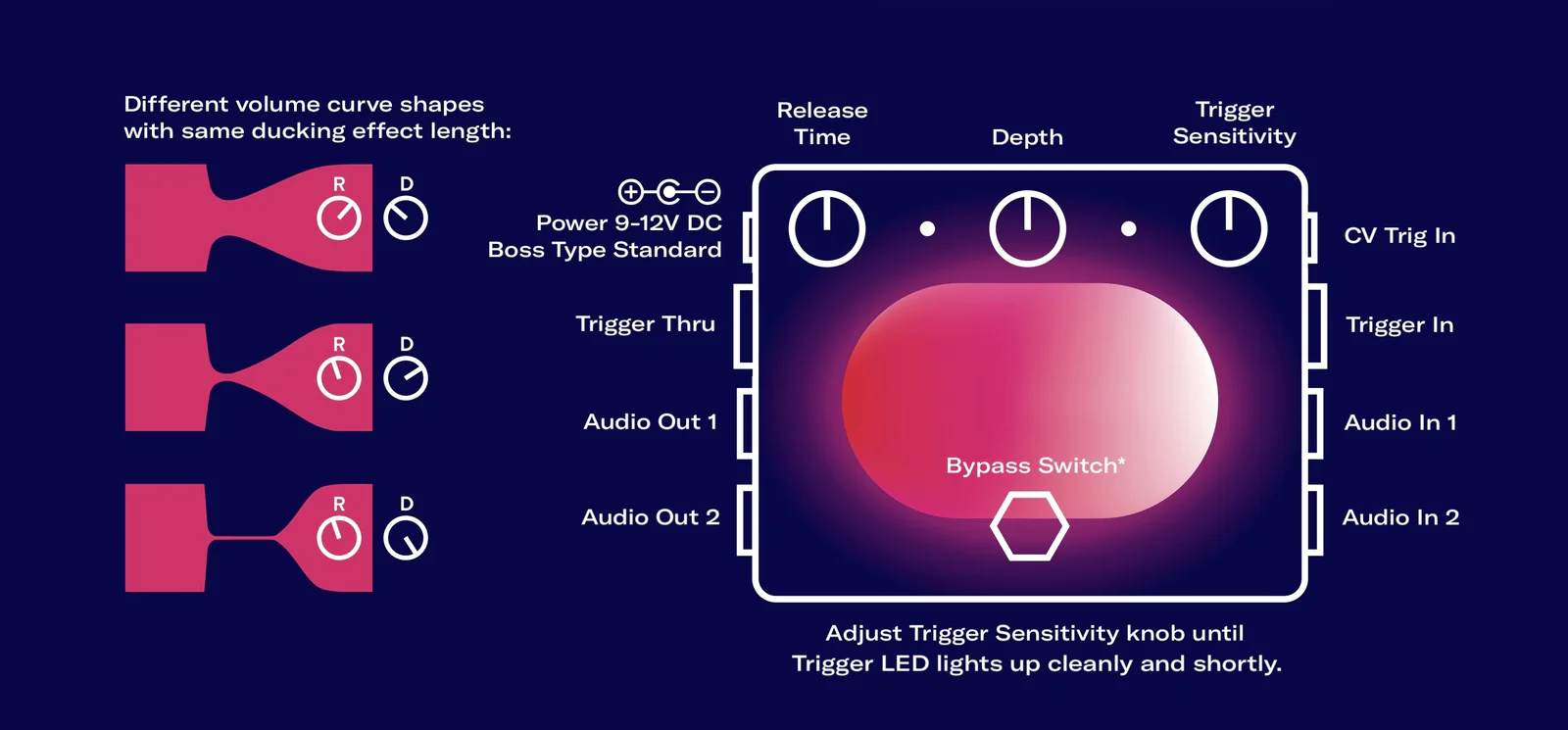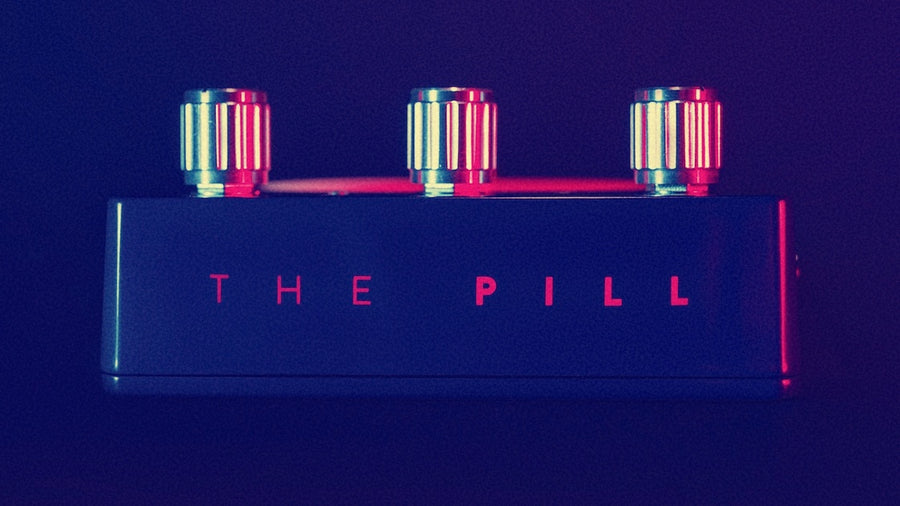 Features & Specs
AUDIO INPUTS:
TRIGGER INPUTS:
1x Mono ¼ jack for audio trigger
1x Mono ⅛ Jack for CV/Gate Trigger
Can be used simultaneously
AUDIO OUTPUTS:
TRIGGER THRU:
true thru Mono ¼ output Jack
DIMENSIONS
119.5 x 94 x 38 mm (Hammond 1590BB)
112.5 x 60.5 x 31 mm (Hammond 1590B)
BYPASS
True bypass with silent softtouch footswitch (operated by a relay)
or
Buffered bypass (completely silent switching)
Selectable with internal switch
POWER
Standard Boss type 9-12V DC (center negative). No batteries.
...BUT MOST IMPORTANTLY
Analog. No digits in here!
Flexible input levels (from guitars/mics to studio line-levels) due to a unique, minimalistic audio path
Musical and best sounding audio compression due to passive, optical signal ducking
Crucial parts are hand-selected, measured and matched by audition by a musician
High quality components, selected over years by A/B tests
Each pedal is calibrated by ear
Die-Cast Aluminium Enclosure, made by Hammond
Durable powder coating and lasting UV-Print
Designed in Berlin, handmade in Switzerland
Carbon neutral shipping with recycled boxing materials
You're about to aquire pure ducking.
Every single pedal is handmade, crucial parts are hand selected, measured, matched and finally the pedal is calibrated, all by my ears. Only like that I can guarantee the most bouncy ducking and best sound quality. My time available is simply limiting the number of pedals I can build.
Discover The Pill
The Pill is the first of its kind Ducking Effect Pedal. It brings a music production effect to the live stage.
All it does is ducking. It's its core purpose. Analog, true bypass and handmade in Europe. It's made by a musician, for musicians.
Release. Depth. Trigger. No need for more.
Release: Sets the duration of the ducking. From short to long.
Depth: Sets the ducking volume level. From subtle to complete silence.
Trigger: Sets the sensibility (gain) of the trigger input. Quickly adjusted to fit the input source.
https://vimeo.com/372745072?embedded=true&source=vimeo_logo&owner=105087217
How does it work?
There are instrument inputs(s) and a trigger input. Every time the pedal detects a signal at the trigger input, the audio from the instrument input gets ducked. It's that simple.
The trigger signal is not routed to the audio outputs.
Find all features and specifications here
Why The Pill
This pedal brings a music production effect to the live stage. It's a unique design and piece of music equipment. Instantly ready on stage. No troublesome calibration. No need for other accessories.
It's handmade in Europe. Developed by a musician, who understands what musicians wish for and need. No needless functions. Pure Ducking in a robust aluminium enclosure, which just looks dazzling.
100% focused on functionality, musicality and sound quality. No compromises.
The pedal has been tested in real life environments - on stage, in the studio, on tour.
Each pedal is calibrated by ear. Crucial parts are hand-selected, measured and matched.
YOU ASKED FOR IT
New features. To inspire you even more
To hear how musicians all over the planet get inspired by this pedal is one of the most beautiful things I may experience in the journey of making this product. You wished for some additional features - and here they are!
Added Trigger thru output jack (The Pill only)
The Pill: Added Trigger thru output jack.
The Pill: Separate CV/Gate/Trigger input. Can be used simultaneously with the normal (audio)-trigger input.
Selectable with internal switch.
For those who love to engage The Pill completely noiseless.
As a bonus, buffered bypass mode also switches to true-bypass when power is disconnected!
Please note: Since I was developing and not photographing, the pictures of The Pill (stereo version) are not updated yet. So you won't find the trigger thru output jack on the photos.
When you think about it
...The Pill connects the energy of two musicians together. It can make a flat sound more vibrant. Rhythmically always linked to another instrument.
It's moving music, making it more lively, letting it breathe along with other instruments. It creates an organic sound with more depth. It's all about groove. It's bouncing.
Trigger and Bypass Settings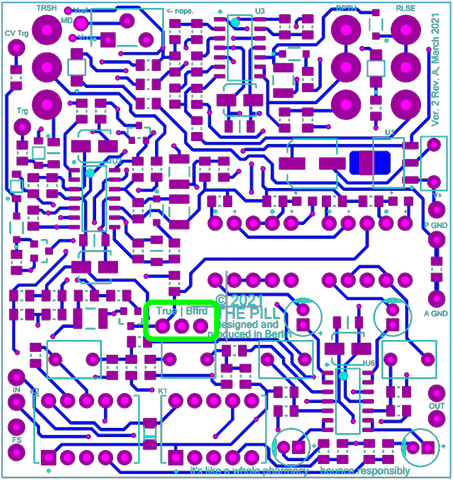 Bypass Setting
True: True Bypass*, switched by a relay.
Bffrd: Buffered Bypass*, for complete silent on/off switching. (default)
*Pedal always switches to True Bypass when unplugged from power.
How to change the settings
Unplug pedal from power.
Open the pedal by unscrewing the bottom plate.
Just use a little plier to pull out the desired little jumper, and put it in again, offset by one pin, so covering the other 2 of the 3 pins.