TANOOKI SUIT Deluxe - Portable 3 Channel Active Mixer with FX Loop
TANOOKI SUIT Deluxe is a Portable 3 Channel Active Mixer with external FX Loop and killswitches for each channel, designed for Guitar Bass Synth Drum Machine Sampler Effects.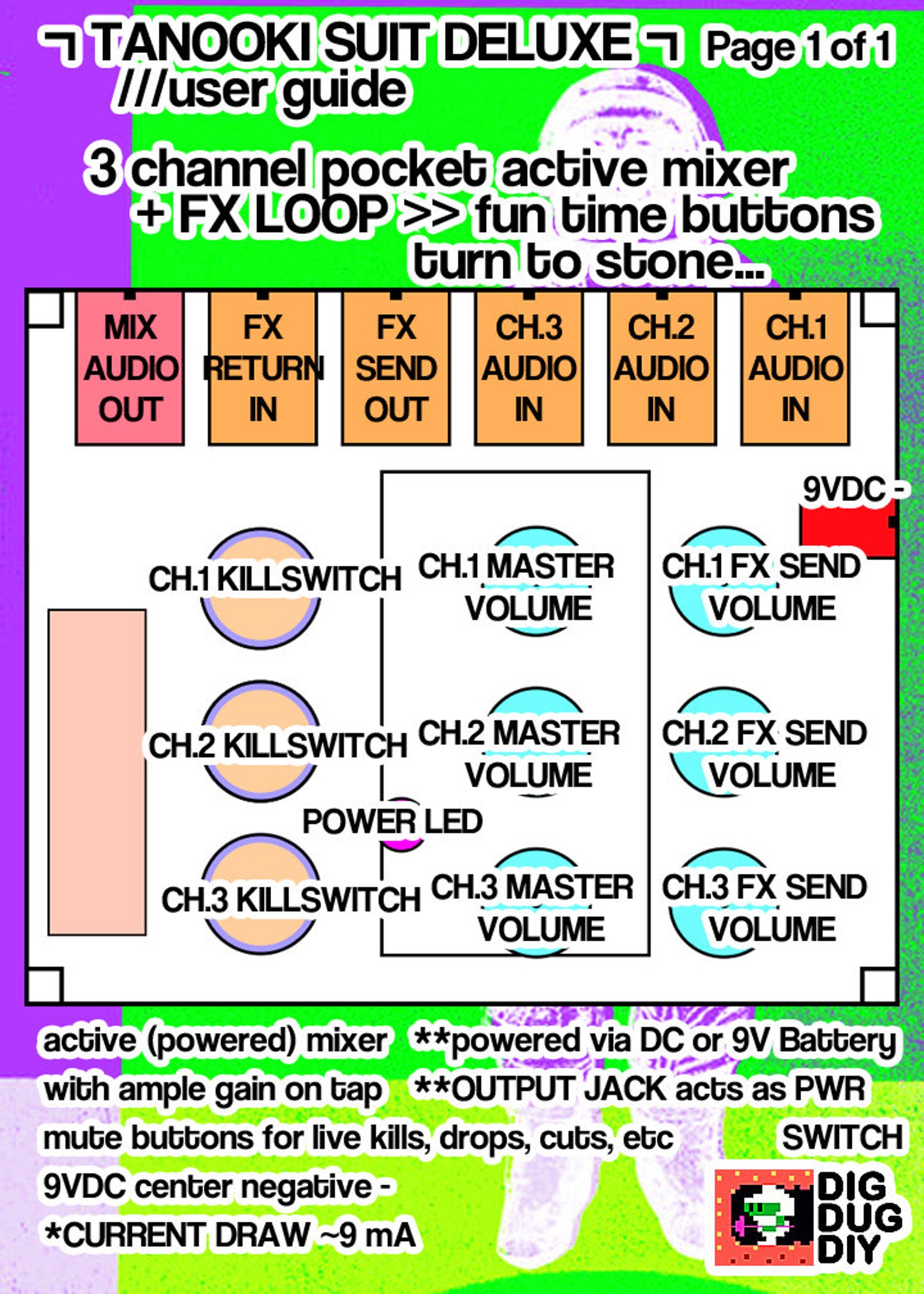 Controls
Left Knobs = Channel 1 - 3 Master Volumes
Right Knobs = Channel 1 - 3 FX Send Volumes
Buttons = Mute/Kill Input 1 - 3
buttons for stutters, drops, kills, mutes, etc.
Description
3 Channel Active Mixer Pedal
FX Loop (FX Send & FX Return)
3 Independent Master Volume Knobs
3 Independent FX Send Volume Knobs
3 Independent Mute / Killswitch Buttons
Handmade FX Pedal. *high quality parts & wiring (22 AWG)
1590XX Enclosure size approx 5.7" x 4.7" x 1.5"
Power: 9VDC center negative - or 9V Battery Power (output jacks acts as power switch for battery)
full range // large sized input caps **no low end loss.
for Guitar, Bass, Synth, Keyboard, Drum Machines, Samplers, Microphones, etc. etc.
basically whatever you can plug in
▼ retro futures ● lofi lifestyles ▼ http://digdugDIY.com ◀
Etsy: https://www.etsy.com/listing/1296797998/tanooki-suit-deluxe-portable-3-channel?show_sold_out_detail=1