MOOD Instant Ambience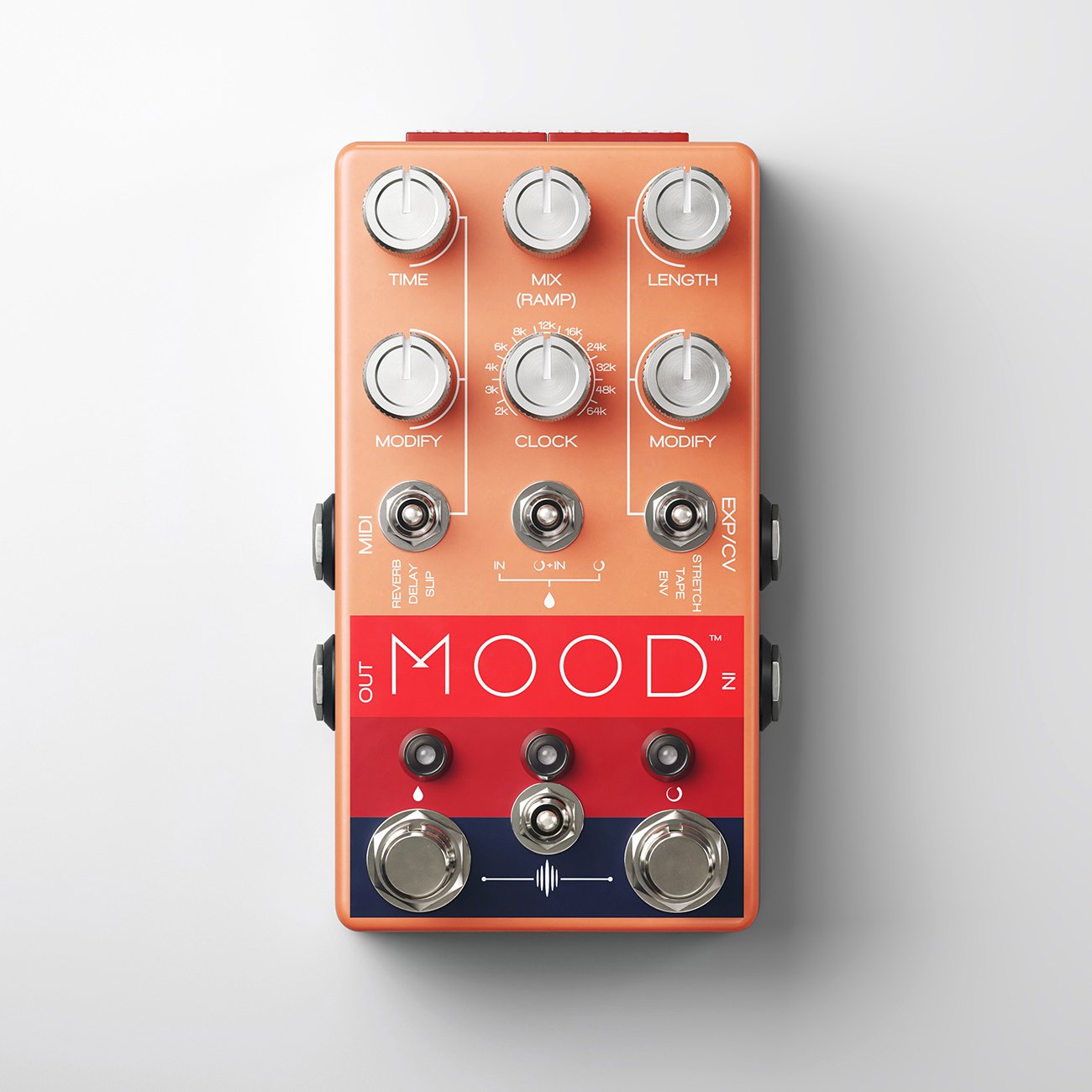 Manuals
Specs
Mono I/O
Presets (2)
Internal modulation (Ramping)
MIDI (PC, CC)
CV control
Expression control
Trails
Momentary or latching bypass
Analog dry thru
Buffered bypass
9V Center Negative ~200 mA
Two channels of spatial chemistry.
MOOD is a different kind of multi-effect. Its two channels are aware of each other, and work together. One half samples and loops brief moments, the other is a suite of real-time spatial effects.
You can even spill audio back and forth between the two channels for endless shaping: Run a time-stretched loop through a cloud of delay taps, re-sample it, and carry on.
It's a musical chemistry set. Transfer, combine, and get lost.
made with Drolo FX & Old Blood Noise Endeavors
---
Turn any moment into a looping texture, instantly.
Spill audio back and forth between the two channels.
Stretch, slice, and dynamically control the ambience
Make sample rate a melodic element with the Clock knob.
---
Musical clock. Probably the knob you will use most.
Clock controls the sample rate of both channels. Adjusting it shifts everything in harmonized steps, so you can instantly half-speed a loop and the reverb it's being processed by. We left some pretty extreme settings in there, with noise and artifacts spilling through.
Micro-looping
MOOD features an always-listening looper. It's a bit like fishing for music: The channel is continuously recording until you turn it on, and then you see what you get. Instant gratification.
Designed by Drolo FX.
Spatial effects
The wet channel is a twist on the familiar ambient palette. Reverb descends into frequency-shifting at a turn of a knob, skipping doppelgängers emerge from the auto-sampling Slip mode.
Designed by Old Blood Noise Endeavors.
Routing
Each of MOOD's channels has its own unique way of acting on the other. The micro-looping channel hears the effects from the wet channel, and captures them within its loops. In return, you can then send those loops back through the wet channel for further processing.
Expand and integrate
MOOD features advanced connectivity and customization options including MIDI, CV and Expression control, presets, and internal modulation of any or all its knobs.