JVC HMDH40000U D-VHS VCR
JVC HMDH40000U D-VHS HDTV Digital Video Recorder
Digitization Notes
[MENU]
Digital R3: Off
Video Calibration: Off
Picture Control / Picture Mode: Edit or Auto / Norm
Video Calibration
This is similar to tracking, but so much more. It more precisely control the playback quality of your tape, maintaining both tracking and signal quality.
Picture Control
This allows you to control how your pictures looks on screen, and have several modes, including 1) soft, 2) sharp, 3) norm/auto, and 4) edit/raw. Most times, leaving the setting on AUTO will provide the best results. EDIT is used to leave the video in raw form, without any kind of quality calibration, and is meant mostly for the editing functions of the VCR. SHARP is good when the video is blurry. SOFT makes the video a bit softer, often covering up noise in the signal, and is extremely useful with cartoons that have quality issues as it covers up video grain in like-colored areas.
Picture Mode = Noise Reduction
Edit: Off, used for editing and in our case capturing
Sharp: Minimal noise reduction + edge sharpening (causes halos)
Soft: Heavy noise reduction
Auto / Norm: Standard noise reduction, mostly to remove chroma, some softening may occur (depends on source)
Digital R3
This is a feature found on the upper-end models, and is edge correction. It is most noticeable on cartoons, but gives a cleaner break in contrast and in smearing or blurry areas of the video. Edge correction, without actual sharpening (causes halos).
Video Stabilizer
This is a very nifty feature for tapes that have a hard time playing in other VCRs or have tracking issues that cause the tapes to bounce. This is a kind of bounce or jitter that is due to the physical aspects of the tapes, and cannot be corrected by a TBC. It must be corrected at the playback level, and this feature provides a solution to that error. The only disadvantage of this feature is that it cannot be used in conjunction with the built-in TBC/DNR filter. If turned on while TBC/DNR is enabled, it will first shut off that feature before initializing the stabilization filters.
Audio Monitor
This is a great feature for older tapes that have buzzing in the sound or have tracking errors that cause the audio to crackle or break. It can use MONO, HIFI, L CHAN, R CHAN, or MIX. The cracking is often removed by changing the audio to MONO. While it slightly muffles the sound, it will clear out the buzzing that is located in the upper frequencies of the HiFi channel. The MIX is best unused, as it adds a "tunnel" effect to the sound. L and R CHAN allows you to pick just one channel for audio.
TBC / DNR
This is the built-in time base corrector on the JVC unit, that incorporates BOTH TBC and digital noise reduction at the same time. It is a button on the front of the machine that glows red or green when turned on. This feature alone makes these machines worth the price. These seem to provide more horizontal corrections than vertical ones.
Rec Level Control
This is an audio level filter. It allows you to raise or lower the volume of the audio. Although it is supposed to only work for recording, on some models, in some situations, it seems to work for playback also, including pass-through!
---
VHS is not precise. The signal recording wobbles. Calibration tries to navigate this imperfect path to give the best playback. It should never be used for recording, and is hit-or-miss (usually miss) for other JVC decks. This specific model (JVC SR-VS30) is one of the few where it helps.
From:
Description
The HM-DH40000 from JVC redefines home theater performance. Its playback picture is ready to display on the newest HDTV and hi-res projector systems. It enables full enjoyment of prerecorded D-Theater movies, now and in the future. But it also keeps you in touch with the analog video library you've built over the years because, as they say, the show must go on. So go beyond video. Experience the extreme performance of the HM-DH40000 from JVC. HD Video for the age of HDTV
From the offical JVC product page
Digital Set-top box ready with Digital-to-Digital connection via i.Link (IEEE 1394) terminal
D-Theater compliant with the advanced D-VHS security system
HDTV Digital Broadcast Bitstream Recording/Playback
Built-in MPEG2 Decoder for Direct Connection to HDTV
Can Record Any Type of Broadcast including HD, SD or Analog
Features
From the offical JVC product page
Digital Set-top box ready with Digital-to-Digital connection via i.Link (IEEE 1394) terminal
D-Theater compliant with the advanced D-VHS security system
HDTV Digital Broadcast Bitstream Recording/Playback
Built-in MPEG2 Decoder for Direct Connection to HDTV
Can Record Any Type of Broadcast including HD, SD or Analog
HS mode (28.2 Mbps) for up to 4 hours, HDTV recording STD Mode (14.1 Mbps) for up to 8 hours, SD recording LS3 Mode (4.7 Mbps) for up to 24 hours, long-time recording, and LS5 mode for up to 40 hours long-time recording Per DF-480 cassette
D-VHS (HS, STD, LS3) S-VHS (SP, EP) S-VHS ET (SP, EP) HiFi VHS (SP, EP) VHS (SP, EP)
Full Spec HDTV Compatible (with all 18 ATSC broadcasting formats)
DigiPure Technology for high resolution analog recording and playback
5.1 Dolby Digital Output (optical)
2 channel Linear PCM Audio Output capability
1080i, 720P, 480P and 480i
2 Sets of AV inputs
S-Video inputs
2 Sets of AV outputs
2 S-Video Outputs
1 Component Video Output (Y, Pb, Pr)
1 x Optical Digital Output
2 x I.Link Terminal (IEEE 1394), DV input only for camcorders
Front Inputs ( AV, S-Video, i.Link)
Video Navigation- Tape Number, Record date and Category sorting
Frame Synchronizer for pristine analog-to-digital dubs
MTS Decoder for SAP programs
VCR Plus+ with provided cable box controller
Express Programming
Plug and Play for automatic tuner and clock set-up
1-year / 24-event programmable timer
Av Compu Link
Multi-Brand TV Compatible Remote Control
90 days labor and 1 year parts
Weight: 12.2 lbs.(5.5kg)
Width: 17-3/16″(435mm)
Height: 3-3/4″(94mm)
Depth: 15-1/8″(383mm)
Power: AC 120V - 60Hz
Specifications
From the offical JVC product page
| Key | Value |
| --- | --- |
| MECHANISM/SERVO | HM-DH40000U |
| Head Configuration: | |
| D-VHS | 5 Head |
| VHS | DA-4 + Hi-Fi Audio 2 Head |
| AUDIO | HM-DH40000U |
| Recording Audio Format: | |
| D-VHS | Linear PCM or MPEG-1 Layer2 |
| VHS | Hi-Fi |
| Dolby Digital/DTS/PCM Digital Out | Yes/Yes/Yes (D-VHS) |
| VIDEO | HM-DH40000U |
| Recording Video Format: | |
| D-VHS | DVB Standard MPEG-2 TS |
| VHS | NTSC S-VHS/VHS |
| S-VHS ET Recording | Yes (S-VHS) |
| Recording Time (Approx.)* | |
| HS | 4 hours (28.2 Mbps) (D-VHS) |
| STD | 8 hours (14.1 Mbps) (D-VHS) |
| LS3 | 24 hours (4.7 Mbps) (D-VHS) |
| LS5 | 40 hours (2.8 Mbps) (D-VHS) |
| Recording and Playback Speeds**: | |
| D-VHS | LS5 / LS3 / STD / HS / LP / EP / SP |
| VHS | SP/EP |
| Motion Active Progressive Scan Output | Yes (S-VHS/VHS) |
| Super MPEG Encode Pre-Processor | |
| Time Base Corrector | Yes (S-VHS/VHS) |
| Frame Synchronizer | Yes (S-VHS/VHS) |
| Motion Active Noise Reduction | Yes (S-VHS/VHS) |
| DigiPure Technology | Yes (S-VHS/VHS) |
| Frame Memory | About 6MB |
| A.V. Calibration | Yes (S-VHS/VHS) |
| PLAYBACK FUNCTION | HM-DH40000U |
| Navigation | Yes Over1000 Titles |
| Chapter | Yes (D-Theater) |
| Variable Search (Forward/Reverse) | Yes (S-VHS/VHS) |
| Variable Slow (Forward/Reverse) | +/- 1/6, +/- 1/18 (S-VHS/VHS) |
| Shuttle Search | SP 11x, EP 31x, HS 6x, STD 12x, LS3 36x, LS5 60x |
| Index Search | Yes |
| Skip Search | Yes |
| Repeat Playback (up to 50x) | Yes (except LS3 and LS5) |
| Picture Control | Yes (AUTO / EDIT / SOFT / SHARP) (S-VHS/VHS) |
| FF/REW Speed | 100 Sec. |
| Next Function Memory | REW --> OFF, PLAY, TIMER, EJECT |
| TUNER | HM-DH40000U |
| Broadcast Standard | M |
| Stereo Decoder | MTS |
| Channel Storage | 181 ch |
| Plug & Play | Yes |
| TIMER | HM-DH40000U |
| Timer Program | 1-Year/24-Program |
| Express Programming | Yes |
| VCR Plus+ | Yes (VCR Plus+ C3 w/ Cable Box Control) |
| Permanent Program Memory | Yes |
| TERMINALS | HM-DH40000U |
| Front: | |
| S-Video In | Yes |
| Composite Video In | Yes |
| Audio L/R In | Yes |
| Rear: | |
| Component Out | Yes |
| S-Video In/Out | Yes x 2 / Yes x 2 |
| Composite Video In/Out | -/Yes x 2 |
| Audio L/R In/Out | Yes x 2 / Yes x 2 |
| Optical Digital Out | Yes |
| i.LINK | |
| In/Out | DV x 2 (including front) 4-pin, DTCP Compatible DVB Standard MPEG-2 TS, HDV720P |
| In | DV x 2 (rear) |
| JLIP | Yes |
| AV Compu Link | Yes |
| GENERAL | HM-DH40000U |
| On-Screen Display: | |
| On-Screen Language | Eng. |
| Multi-Brand Remote | Yes (Glow) |
| Power Backup Time | 10 Min. |
| Power Requirements | AC 120V/60Hz |
| Power Consumption: | |
| Power On | 42W |
| Standby | 18W |
| Dimensions (W x H x D): | |
| in. | 17-3/16 x 3-3/4 x 15-1/8 |
| mm | 435 x 94 x 383 |
| Weight: | |
| lbs. | 12.2 |
| kg | 5.5 |
Motion Active Progressive Scan for D-VHS Recorders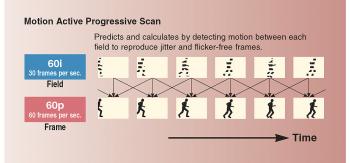 The ideal companion for your large-screen display, the D-VHS recorders incorporate JVC's exclusive Motion Active Progressive Scan circuit to up-convert standard interlace 480i signals to progressive 480p, eliminating inferior image quality on larger screens. Using sophisticated motion detection circuitry for pixel compensation, JVC's Motion Active Progressive Scan circuit eliminates jitter and flicker to produce smoother, cleaner images that come close to matching the quality of true progressive scan sources. Since this minimizes the normal picture degradation as display screens get larger, S-VHS and VHS tapes will look better than ever when you play them on the decks.
Super MPEG Encode Pre-Processor for D-VHS Recorders
To record analog sources in high-quality digital, the D-VHS recorders use JVC's exclusive Super MPEG Encode Pre-Processor to eliminate the defects inherent in analog signals and create new digital recordings that actually appear to surpass the original quality. The Time Base Corrector (TBC) eliminates jitter, Frame Synchronizer corrects frame crossover jitter and processes any deviant frames, and Motion Active Noise Reduction circuit removes noise from both still and moving parts of video pictures. The decks digitally encode and record the now pristine NTSC-compliant analog input signals, free of image lag, smear and MPEG artifacts such as mosquito noise.
i.LINK Terminals for D-VHS Recorders
IEEE 1394 (i.LINK) digital interface terminals with DTCP* content protection technology on the front and rear of the HM-DT100 and HM-DH5 allow you to easily connect with i.LINK compatible devices such as a MiniDV or high-definition camcorders for convenient digital-to-digital dubbing. You can also connect the HM-DH5 with a Digital Set-Top Box (STB) to transfer and record HD and SD broadcast digital signals**.
*: DTCP (Digital Transmission Content Protection) protects digital content from unauthorized copying. Copy-protected contents cannot be recorded via i.LINK terminals. Connected digital devices must be DTCP-compatible to playback copy-protected digital content.
**: Service depends on whether the digital stream provided by cable systems conforms to the ATSC format.
Manuals
Instruction Manual Multiple Program Angles Warnings
Compatible Remotes
JVC LP21036-13 VCR / TV / CATV / DBS
Victor LP21036-014 D-VHS for Victor HM-DHX1, the Japanese equivalent of the HM-DH40000U
Notable Reviews
From Iffy as an HDTV recorder. Great VCR especially for price
The JVC HMDH40000U D-VHS DVR is a great next-generation VCR and high definition media player. Under certain circumstances it's a good archival system for HD broadcasts. Unfortunately, between the recording industry's paranoia and JVC's mistakes those circumstances are rare. But it's now cheap enough so that you're basically paying for a great VCR with a HD option. On that basis, it's worth 4 stars.
While wonderful to watch, HDTV is clearly still in its early adoption stages. One problem with early adoption is that until standards settle down it's very hard to find critical support technology - like storage. Currently, the main option is to buy or rent a cable/satellite-brand specific integrated DVR/HDTV tuner. This also presents severe limitations: the box is useless if you switch providers, there's typically little storage space (typically 8 hours - HD takes about 4x the space of regular broadcasts), you can't burn programs to DVD, and they're wildly expensive. Until Tivo and others finally figure out the technology and come out with standalone HD units sometime in late 2005-2006, your only real alternative is a DVHS recorder.
For neophytes, DVHS is a remarkable update to 30 year old technology - it uses the the same tapes that VHS always did but records digitally. This is wonderful for backwards compatibility as VHS and SVHS tapes play and record perfectly in a DVHS VCR (and if you've got money to burn you can record an outrageously priced DVHS tape with a VHS signal.)
The good news is when it works it's a perfect digital copy of HD content. The bad is that after losing billions on pirated DVDs the recording industry put so many restrictions on digital recording it basically cripples this VCR and the DVHS format. In very simple terms they nerfed things so badly that it's: 1. very hard to record in HD format and 2. even more difficult to copy HD media.
So why bother with the JVC HMDH40000U?
First, you can in fact record HDTV broadcasts, and when it works its spectacular. The problem is that JVC is so paranoid at offending the studios that the only HD input is a Firewire/I-Link digital one - there are NO component video or HDMI inputs. Only a couple manufacturers provide I-Link outputs from HDTV tuners (Hitachi and Mitsubishi, along with a handful of models from others like Samsung and Sharp) which means for many people subscribing to cable or satellite HDTV this is useless. In addition, there are numerous documented cases where an tuner or camcorder has a nominal I-Link connection that's incompatible with this VCR. Even with a compatible I-Link connection, you can still run into periodic crashes with this largely due to poor compatibility with copy protection standards; I have hard reset (unplugged for 30 minutes) this unit more times than I can count to get it working again. But...when it works the results are a perfect copy and while DVHS tapes are outrageously expensive they're still cheap compared to what it would cost for 5 hours of HD stored on a hard drive.
Second, there is a very small (about 100 or so) selection of extremely high resolution (1080i) movies in a format known as D-Theater. Between this and the 25 or so Muse-HiVision laserdiscs that ceased being produced in 2001 and are only playable on obscure Japanese-only equipment which costs 10 times this VCR, this is about the only way you're going to see a movie in more than 480p on your home screen until HD-DVD/Blu-ray comes out in late 2005/early 2006 at initial prices that are 5-10x that of this VCR. Unfortunately it looks like D-Theater is going the way of Muse, but I've seen a couple movies this way and your jaw will simply drop if you find a movie you like in this format. Even when you lose a ton of resolution by letting the JVC downscale a D-Theater movie to 480i to play on your old Trinitron, this brings out details you won't see in a DVD. Most HDTV broadcasts simply don't compare to the detail you'll find on a D-Theater movie.
But the real reason to buy this is that it is what a 2005 VCR should be. It has component video outputs, an optical digital output, multiple SVHS inputs and outputs, and a range of features (like marking chapters on tapes so that you don't have to find scenes by time) that even good VCRs don't. Better yet, playback and recording in regular VHS and SVHS mode (and you can do both) are noticeably better than my 5-year old SVHS model. (And while it doesn't display video except in spurts while fastforwarding in DVHS mode, in VHS and SVHS mode it does it just as well as any standard unit.) As a VCR it's sleek and highly functional.
Unfortunately, there's a good chance that if you're buying this for HDTV recording its not compatible. Check very, very carefully first before buying. But now that JVC appears to be ready to give up on this model as it doesn't have an HDMI output, it's available at prices directly comparable to good SVHS VCRs. As such you get next generation technology for the same price. And if you're lucky, you get a lot more. For laser disc fans I'd compare it to a bargain basement HLD-X9 - the new technology didn't catch on but the upgrades on the old made this well worth it. Just know what you're getting!
Files
[Sales Presentation: flip chart bleed](/uploads/vcr-jvc-hm-dh40000u/flip chart bleed.ppt) [D-VHS LOGO(EPS)](/uploads/vcr-jvc-hm-dh40000u/D-VHS LOGO(EPS).eps) ![D-VHS LOGO](/uploads/vcr-jvc-hm-dh40000u/D-VHS LOGO(JPG).jpg)
D-Theater (EPS)