Generation Loss MKII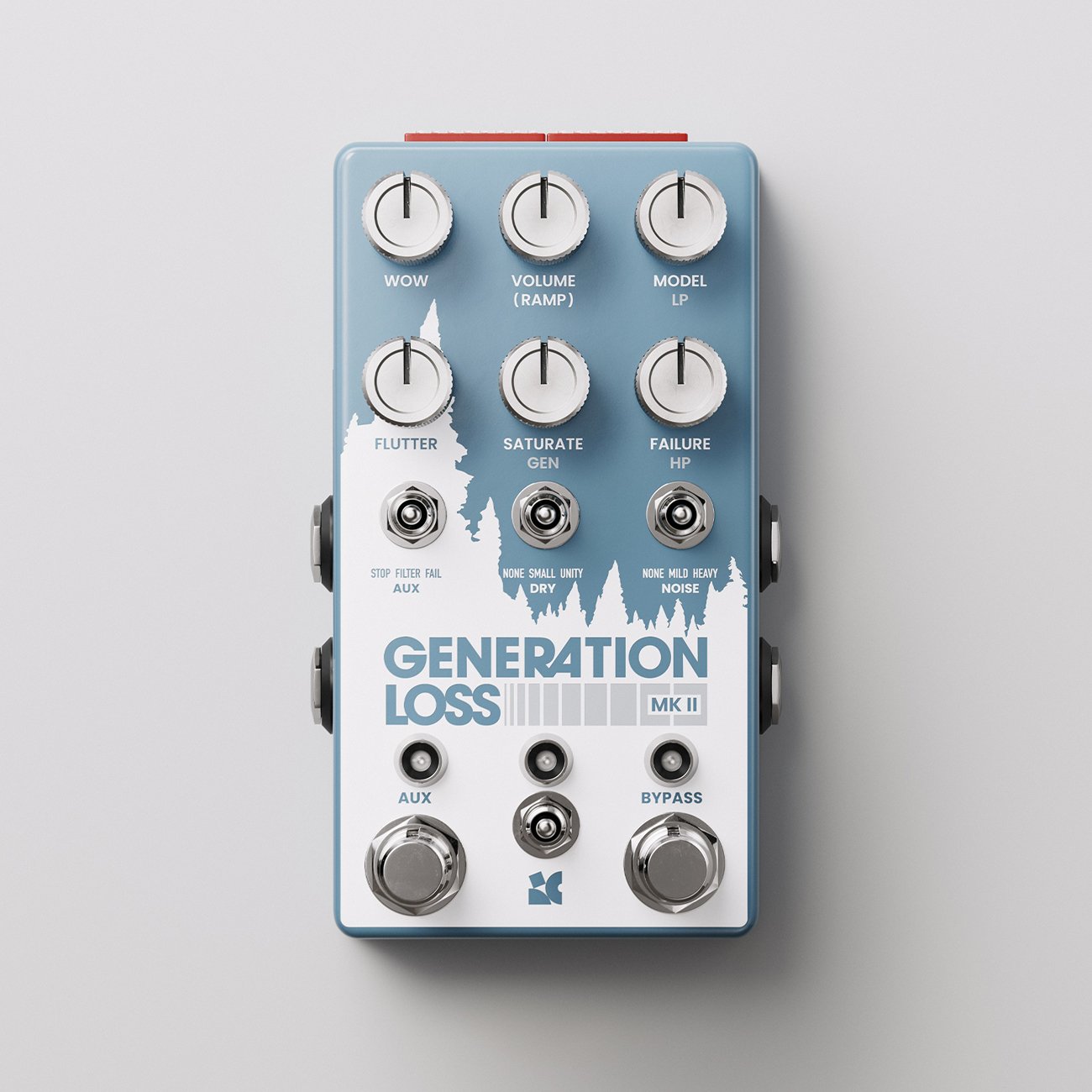 Manual:
Specs
Specs
Stereo I/O
Presets (2)
MIDI (PC, CC)
CV Control
Expression control
AUX switch
Analog dry thru (mode dependent)
True bypass (mode dependent)
9V Center Negative ~250 mA
Link: https://www.chasebliss.com/generation-loss-mkii
2-in-1 magnetizer.
Generation Loss MKII is a study of tape in all its forms.
We decided to start from scratch this time and really explore what tape is all about. Get into those crinkles that make it so magical. We took apart VCRs, we analyzed anything we could find with a tape in it, from camcorders to cassette decks.
All available for you to saturate, fail and flutter, until everything sits just right. And if you prefer the way it was before, you can do that too. In stereo.
---
Explore different tape models and find your match.
Introduce unpredictability with the customizable Failure knob.
True stereo I/O, with unique failure-based stereo spread.
Flick back to classic mode at any time.
Failure. - Moments of malfunction.
The Failure knob is a collection of the little things that can and do go wrong — snags, drops and wrinkles, the moments of malfunction that break the cycle and give tape that living feel. You can turn off the bits you don't like and customize to taste.
Models
The Model knob steps through a library of tape machines, each with its own unique EQ profile. VCRs, dictaphones, toys and more, all built through frequency-analysis of physical hardware.
Tank Mod
We messed with a good thing. Feel free to disagree — turn on the Classic dip switch and you'll be right back to the Generation Loss of old. Just like you remember it, except in stereo.
Modulation
Individual Wow and Flutter knobs to get the warble just right. Blend the two for that familiar, wistful motion, or use in isolation for randomized vibrato, quivering chorus, and more.
Stereo. - Spread out.
Generation Loss MKII is the first stereo pedal in our classic format. Stereo in and out, mono in stereo out, and a unique Spread option that uses the Failure knob to create a malfunctioning stereo image.
Expand and integrate
Generation Loss MKII features MIDI, CV and Expression control, presets, and internal modulation of all its knobs.
We also created a MIDI Controller plugin that you can read more about and download here.